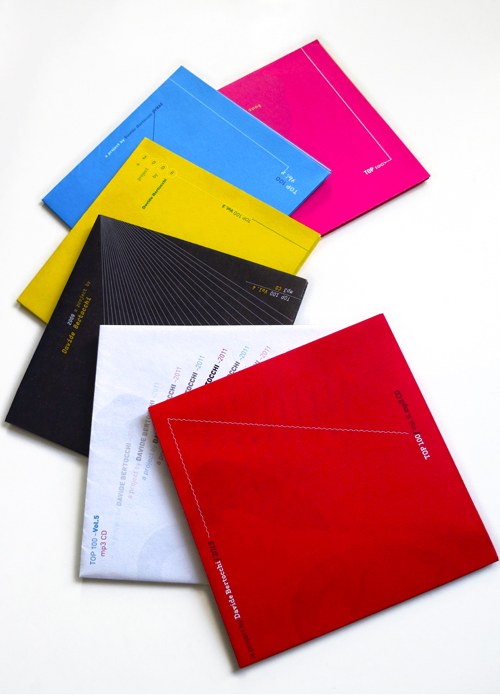 TOP 100
a

project

by
Davide Bertocchi
Begun in 2003, the Top100 gathers, for each edition, the 100 songs selected by players on the contemporary art scene, whom Davide Bertocchi asked to choose their favorite song, intended both as a personal soundtrack and as music emblematic of a particular moment.
Initially, the project was born as the artist's critical reflection on "Top100" classifications (100 best artists, 100 best curators, Power 100, etc.) in contemporary art magazines and the imposing role these inevitably play as sole judgment.
The idea is rather simple: each time invite 100 figures (critics, curators, artists, gallerists, collectors) to choose their own preferred song and then use the compilation-archive to create a CD that acts as a sound magazine in which the idea of "choice" can be traced back to its most basic, intimate, and emotional form.
The six existing compilations, which have all been co-produced with Dena Foundation, have by now become a veritable publishing project in which this mechanism of choice has been taken to extremes: a magazine where the sole criterion present is selecting your favorite song. The Top100 CDs are a multiple, in editions of 500.
Some figures: the project involves 627 people for a total of 621 songs and 44 playing hours. They take up 3.5 GB of memory and are the result of 1,283 e-mail messages. There have been 12 presentations and launches to the public, involving over 10 years of work.
Top100 is supported by Dena Foundation for Contemporary Art, Paris
www.denafoundation.fr